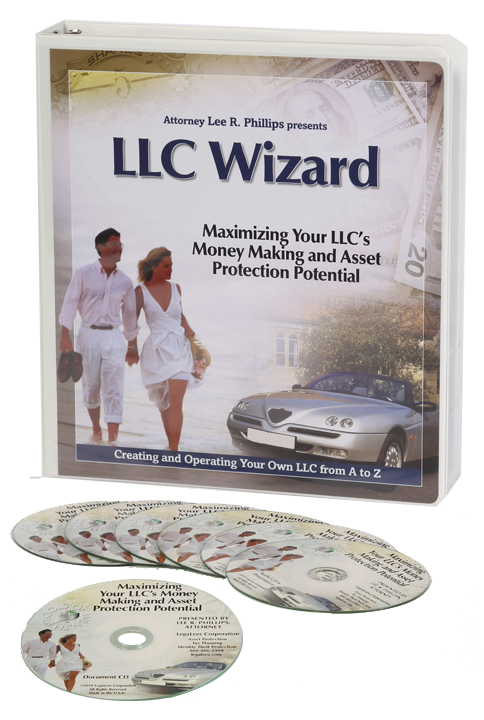 Maximize Your LLCs Money Making AND Asset Protection Potential With

the LLC WIZARD SYSTEM!

Get the LLC Wizard and Go Way Beyond the Standard Forms
The LLC Wizard delivers! Use it to double your asset protection and get a lot more spendable cash out of your LLC. This clearly-explained information will walk you through the setup, and operation of your own boutique LLC in 6 easy steps. It works in any state and can easily be done from home using simple and powerful legal and tax strategies your attorney and CPA have probably never mentioned.
The LLC Wizard contains 6 hours of audio and 220 pages in print covering the following concepts in depth:
1.  How to determine which state you want to form your business in and what you need to do to make the filings. It includes
Business Structure Questionnaire
Business Entity Matrix
Complete step-by-step filing instructions
2.  The best way to get the right name.
Name Availability Instructions
USPTO.gov tip
3.  Getting the Maximum Tax Opportunities.
How to file the tax election step-by-step
Tax form instructions step-by-step
Audio discussion of tax "loopholes"
4.  The fundamental characteristics of an LLC
Articles of Organization tips
State specific paperwork
5.  The heart of Your LLC – the operating agreement:
Operating agreement
Double asset protection clauses
Tax clauses
Forming an LLC is easy.
Why Form an LLC?
Get Asset Protect for Members (owners) from Business Liabilities
Get Business Protection from Owners' Liabilities
Get More Money
Get Streamlined Maintenance
Get Estate Management and Estate Tax Advantages
Why Use LLC Wizard?
Most accountants and attorneys fill in a couple of blanks, check a couple of boxes, say they'll file everything for you, and then now got your LLC! That's true, BUT…….
Getting a Set of Standard Internet
Forms Doesn't Protect You!
If you're only going half-way, you're missing a lot of extra money and you won't get the asset protection you're entitled to.
LLC WizardTM Gets You All the Way There
Internet Half-Way Sites

File articles of Organization
Get a tax ID number
Save some taxes
Pay Payroll taxes (self employment taxes)
Pour money into a Registered Agent
Get a stack of papers and an LLC

The Complete LLC Wizard System

Adopt an operating agreement and do the tax filings
Customized documents with explanations
Shows Pros and Cons of the options for how to tax the LLC
Lower your AGI (Adjusted Gross Income)
Protect business assets from personal liabilities
Have a smooth ownership transition
Eliminate Estate Taxes
Use a Series LLC
Reduce payroll taxes (self employment taxes)
Cut income taxes by $20,000 – $30,000
Skip the Registered Agent – Save Money!
Use your LLC to Make Money and Protect your Assets
The LLC WizardTM is a 6 hour audio course and over 220 pages of printed supporting documents that teaches you how to customize computerized LLC documents. You can use the computerized documents over and over again. The education you get and the ability to design customized documents for your unique situation gives you all of the money making and asset protection potential an LLC offers.
It's easy, but designing and using your LLC deserves more than ten minutes.
Don't just protect personal assets from business liabilities. Protect your business and "personal assets" from personal lawsuits, divorce, bankruptcy, and other personal liabilities. Most people – most attorneys – don't even know what the LLC options are.
Use the LLC WizardTM System to Create Custom Documents
Protect Members and Managers from Business Liabilities
Protect Business Assets from Personal Liabilities
Make More Money!
Avoid Estate Taxes and Probate on your LLC
When you use the LLC Wizard System, you'll actually create a more successful business, get more asset protection, and make more money. Do you really want to "just take ten minutes and complete a couple of questions" to get your LLC, when tens of thousands of "extra" dollars could be yours, and the security of all your personal and business assets are on the line?
The LLC WizardTM Advantage
1. Customize (not personalize) All Your LLC Documents
Evaluate which state you should file your LLC in (Learn the advantages and disadvantages, and don't fall for a promoter's hype)
Use documents specific for the state you want to file your LLC in
Design unique Operating Agreements, Membership Owner's documents, Meeting Minutes, Resolutions, and Contracts
Articles of Organization are the place to start
Create a unique Operating Agreement It's the Operating Agreement and other documents that determine how much money you will take home to spend and what liability protection you'll get
Use advanced clauses & lockout provisions
Create Membership Interest Certificates
Create Membership Interest Ledgers
Create Meeting Minutes, Resolutions, and other "housekeeping documents"
If you know you can use the LLC Wizard System, do you really want the one-size-fits-all internet LLC forms? Most attorneys simply personalizing your documents by only inserting your name into a one-size-fits-all template.
2. Use Your LLC to Make More Money
How should your LLC be taxed?
How can you use your LLC to lower your AGI?
Why is it more important to lower your AGI than just save taxes?
If it's done right, how does your LLC avoid estate taxes?
How do you design your LLC to avoid probate?
3. Go Way Beyond the "Corporate Shield" Liability Protection
You've got to DESIGN protection into your LLC documents
Protect your business from personal liabilities
Beef up your Charging Order Protection
Avoid fraudulent conveyance traps
4. Use Series LLCs
Avoid state fees
File simplified tax returns
Get even better asset protection than a simple LLC
The LLC Wizard is Tax Deductible for most people. Please call us to help you structure your purchase correctly. Sure, you can order right off this page, but I still like the personal touch of being able to talk to someone. When we structure your purchase correctly, you get great tax benefits. Start using the law, and let the IRS help you for a change. You'll be able to save $1,000s on taxes every year when you use the LLC Wizard Course, because the "legal tools" are in there to give you more possibilities to cut taxes.
PLUS: If you have a question, you can call our support line and there is no charge to have your questions answered by a licensed attorney. Yes, a licensed attorney will answer your questions. We normally charge our clients $75 minimum for the phone call and $375 per hour, but we are happy to answer calls from students who purchase this course and THERE IS NO CHARGE for the call. We can't give you "legal advice", but we will answer your questions and get you back on track. (That's the legal disclaimer. You knew there had to be one.)
Get the LLC Wizard NOW!

"Thank you for a great program! I have run multiple businesses over the last 25 years, mostly C and S corporations and a family partnership, and I was amazed at the clarity you gave to the considerations of structure, and also the tax flexibility of the LLC. Everyone should have this information, even if they do use outside counsel. I have learned the hard way, several times, that outside professionals are not as interested in your business as you are. Thanks again."– BC, Mesa, AZ.
P.S. I don't have unhappy students, so if you're not fully satisfied, you've got a 30 day money back guarantee with no questions asked. You've got nothing to lose if you use the LLC Wizard Course. If you don't use LLC Wizard, all you've got to lose is a weakened business foundation, important tax planning information, and asset protection loopholes if you don't maintain the structure correctly. If your business grows, this could be your most sizable asset over a life-time of hard work. Why put it at risk?
Select the Add to Cart button to order now, or call 1-800-806-1998 to make sure you get the tax savings when ordering.