Why an LLC – Overlooked LLC Issue No. 1
Thanks again for subscribing to
"The 10 Overlooked LLC Issues People Often Screw UP!"
Why an LLC – Overlooked issue number 1 is written for you. Behind every tip, technique and trick there are core concepts that you've got to know to be successful. Once you get the basics down and you can actually use the concepts, nothing can stop you.
I hate it when I go to the legal form books and they make broad statements about the legal forms and structures and then expect you to just "know how to do it." The funny thing is, when I ask other lawyers how to do it, they don't know either. Yet, everybody insists that it can be done.
In all of my products and my written materials I try hard to cover "the little details" – the implementation techniques.
I have the advantage of having been abandoned by the law profession before I started to practice law. I got sick, really sick, and didn't work for three years. After that, I was unemployable. I was an outsider – one more lawyer the other lawyers didn't have to worry about competing with.
I had to learn it all on my own. I remember the "little details" that were so hard to figure out, so I can pass them along to you. Why an LLC is the start.
Having said that, you need to know that I will try real hard in this Series to address issues you can't find addressed anywhere else.

Issue No. 1 is the "Why" an LLC
Why an LLC? Why not just go with the partnerships, limited partnerships, or corporations?
A touch of history will help. The LLCs are nothing new. You might have noticed the LTD or the GMbH designations on European company names. Those are basically limited liability company designations.
I watched the LLC come to the USA. I was in law school shortly after the LLC was introduced into Wyoming in 1977.
I took business law classes, and they made no mention of the LLC, which is now the most popular form of business structure. A lot of lawyers still don't understand the LLC, because they've never learned about it. They can't answer why an LLC.
Why an LLC? The LLC was designed to provide the liability shielding of a corporation and also the partnership protections.
You immediately checked out with that last statement, and said I was nuts. Yes, there is an asset protection aspect to partnerships, but it's not what you think.
The corporate shield is something everybody talks about, and all of your advisors champion. There's no question it protects the personal assets of the shareholders from liabilities encountered by the corporation.
The corporate shield also protects the personal assets of the officers and directors from liabilities encountered by the corporation — provided the corporation is properly established and all of the formalities are followed.
HOWEVER, the vast majority of corporations and LLCs don't offer their owners any protection when the case actually goes to court. Many are not established right, and the vast majority never follows the formalities.
If you don't do what the law requires you to do, the judge can't use the laws to protect you.
Partnerships don't have any pretense of a "corporate shield" or protection of the personal assets of the partners from liabilities encountered in the partnership's business activities.
Each of the partners is liable for everything! All of their assets are on the line.
Why an LLC- Why not a Partnership?
About 200 years ago in England, the only "business entity" that existed was a partnership. The Brits weren't worried about protecting the partners' personal assets from business problems, but they did worry about one partner "losing the company" for the other partners.
In a partnership, each partner can sell the assets of the partnership, bind the partnership and all of the other partners, and basically single handedly dismantle and sell off the partnership assets.
If one of the partners got in trouble – as examples, a personal lawsuit, didn't pay his taxes, got divorced, made stupid investments and went bankrupt – the creditors of the partner in trouble could come in and get his partnership interest.
Suddenly, the other three partners had a new partner who could destroy the company. It's not fair that one partner makes a personal mistake, and each of the other partners lose everything they've worked their whole life for, but that's what was happening.
So England passed laws to stop this injustice. Those laws have been bundled into the United States LLC laws.
Why an LLC? LLCs are not partnerships and they are not corporations. They have taken the good parts of both the corporation and the partnership. That doesn't mean that you may not want a partnership or a corporation. They have their places.
But, if the LLC is set up properly, has a properly worded operating agreement, and all of the formalities are met, you will get a lot better protection from the LLC than you will a corporation.
Why an LLC? You Can Get Double the Asset Protection
I'm seeing more people lose their business these days, because they get in trouble personally, than I am seeing people losing their personal assets because their business gets into trouble.
How do you protect your business from your personal problems? There's a whole world out there that your advisers have never warned you about.
If you haven't done so already, pick up the How to Double Your Asset Protection eBook, and get all the details your lawyers never showed you. If you aren't enlightened and think you can get the double asset protection, just request a refund. It's that simple.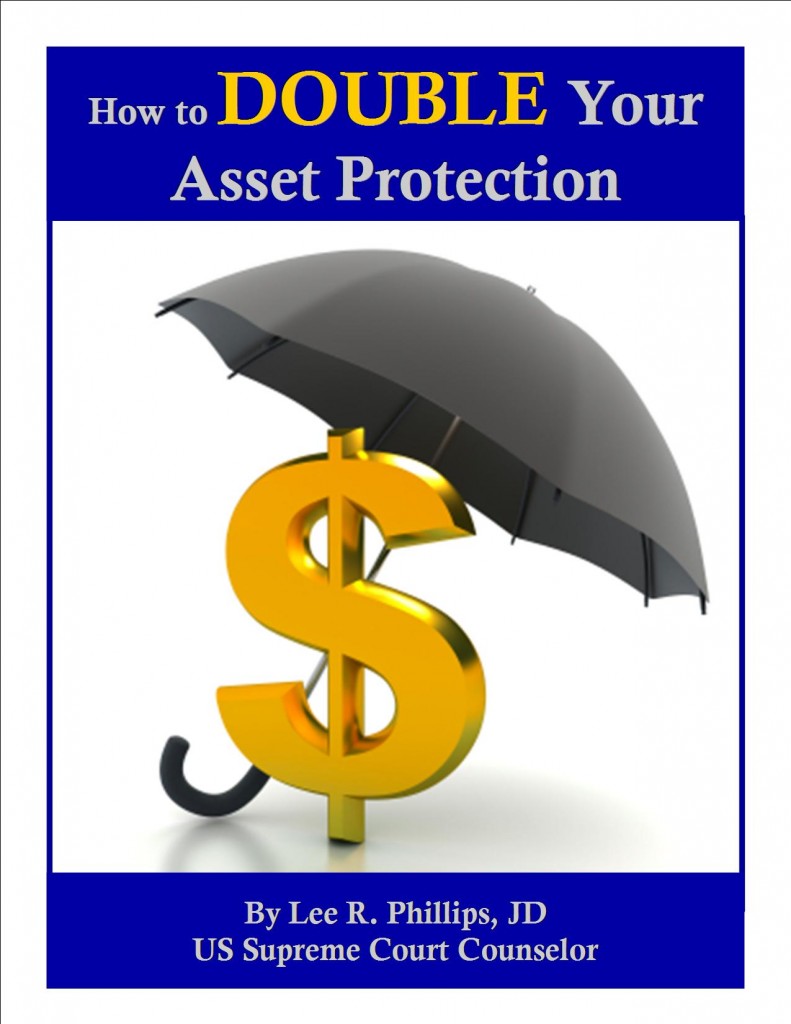 Only $14.99!
Tomorrow : LLC Overlooked Issue No. 2, "Registered Agent Requirements and Scams"
Everything You Need to Know to Double Your Asset Protection Using a Carefully Designed LLC – How to Double Your Asset Protection eBook
eBook Digital Download ($14.99): "How to Double Your Asset Protection" in digital format for immediate download. Exposes the double asset protection potential of an LLC and what your advisors have never told you.

LLC Wizard System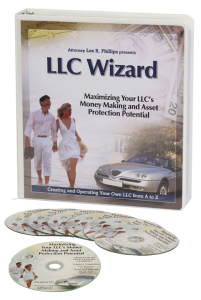 Establish your own LLC (create as many LLCs as you want in any state you want) and follow all the formalities to get maximum asset protection. Plus make thousands more each year without working harder, just using the laws.
Course includes:
–  6 hours of CD Instruction
–  Computer CD with all the necessary LLC legal forms and ongoing maintenance forms
–  Tax forms with line by line instructions
–  It's also tax deductible!
All this for only $1497
ORDER TODAY AND GET 5 FREE GIFTS!!
Special Bonus NO. 1
Phone Support
LLC Wizard Special Bonus No. 1: If you have a question, you can call our support line and there is no charge to have your questions answered by an attorney. THERE IS NO CHARGE for the call. We can't give you "legal advice", but we will answer your questions and get you back on track. (That's the legal disclaimer. You knew there had to be one.) We can't put a value on this service, but we do know it has been worth thousands of extra dollars every year to many who have called.
Special Bonus NO. 2
"How to Double Your Asset Protection" eBook
LLC Wizard Special Bonus No. 2: "How to Double Your Asset Protection" eBook ($14.99) Exposes the double asset protection potential of an LLC and what your advisors have never told you.
Special Bonus NO. 3
"Protecting Your Financial Future"
LLC Wizard Special Bonus No. 3: Award winning 380 page book, Protecting Your Financial Future. ($24.95 Amazon) Includes all the good loopholes, money making, and asset protection material you need to setup and protect your personal estate.
Special Bonus NO. 4
90 Minute DVD
LLC Wizard Special Bonus No. 4: ($49.99 value) 90 minute DVD, Using the Law to Make Money and Protect Your Assets. Presentation is filled with wealth building and asset protection strategies used by my high-end clients.
Special Bonus NO. 5
Free Shipping
LLC Wizard Special Bonus 5: No charge for shipping.
When you get the Bonuses and take your Tax Deduction, your total investment in the LLC Wizard is effectively under $179!! Can you afford to wait any longer?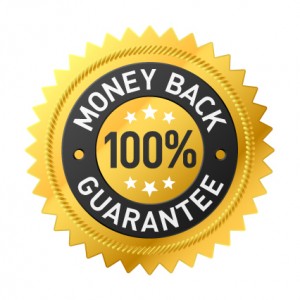 No risk 30 day money back guarantee. Order NOW!!
© 2012 LegaLees Corporation
­­­­­­­­­­­­­­­­­­­