What is an LLC Company-Explained
What is an LLC Company?  The LLC company or LLC is short for Limited Liability Company.  But really, what is an LLC Company? The first LLC company in USA was formed in Wyoming by a group of businessmen who wanted to more easily protect their business activities.  Because of its ease of operation and liability protection the LLC has become the business entity of choice for most small businesses.
Are you wondering how to form a LLC company?  You can form an LLC yourself.  Just be certain you have considered the scope of the operation and have the complete LLC company information available.  Don't be fooled by the "quick and easy form an LLC company" forms available in stationary stores or on the internet claiming that you can set up an LLC in seconds.  While it is true you can open an LLC quickly by filing a two or three page Article of Organizations document with the state, if you stop there you are not going to get LLC asset protection. Unless you're rolling the dice and betting you'll never have a legal problem or challenge, opening your LLC should be a process you complete after your have some education.
If you are asking what is an LLC Company, you should be serious about liability protection and the proper set up for your LLC, first you need to know that the Articles of Organization by themselves are not enough. You also need to get an LLC Operating Agreement to define how your company is set up and run. If your LLC is involved in a lawsuit, your Operating Agreement can level the playing field in your favor.
What is an LLC Company- Set up an LLC
Understanding how to set up a LLC Company Operating Agreement will allow you to protect your personal assets from company disasters.  For instance it is very important to set up your agreement to provide that you get maximum charging order protection out of your LLC Operating Agreement.   You also need to have more than one owner (member) of your LLC after June 2010.
Finally you need to make certain that you make the proper tax elections before your opportunity to determine how you will be taxed expires.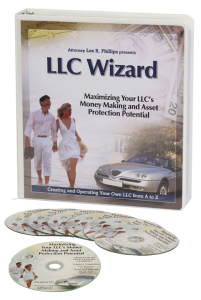 My LLC Wizard provides this and other information. The LLC Wizard  is a 6 hour audio course and over 150 pages of printed supporting documents that teaches you how to customize setup and operate a Limited Liability Company. It has computerized documents that you can use over and over again.  The education you get and the ability to design customized documents for your unique situation gives you all of the money making and asset protection potential an LLC company offers.